A few years ago I strongly considered growing tobacco, I had asked a friend who owns a farm if I could use some of his land to grow a few plants and got the ok on it...sadly this never came to be as time passed and I never got round to doing it.
HOWEVER the story doesn't end there (that'd be a boring and sad story)
Instead...
Roughly 2 months ago It was decided that I was going to make a go of it and to make it possible for the time of year, it would be done inside.
I decided to write this all up, not only as a this is how I grew tobacco indoors but also as a how I did it for under £70, so lets get started.
Firstly I brought 400 seeds, and not knowing the germination %, put in around 300 in a small tray.
I placed the tray in a large sandwich box and placed the lid on top to create a makeshift propagator.
This went terribly, nearly every one germinated and I was left with an hours work to separate them and thin them out.
I was left with this.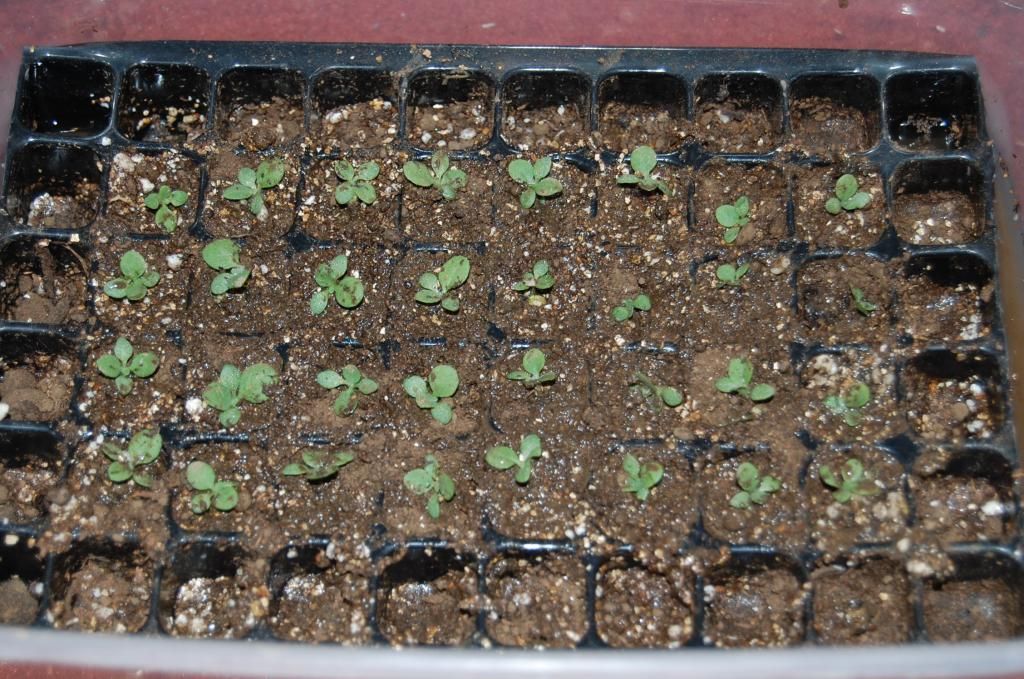 and this
32 Healthy plants and a load of compost.
However I also picked out a the best plant and put it inside a butter tub with another home-made propagator (2 Chinese takeaway dishes)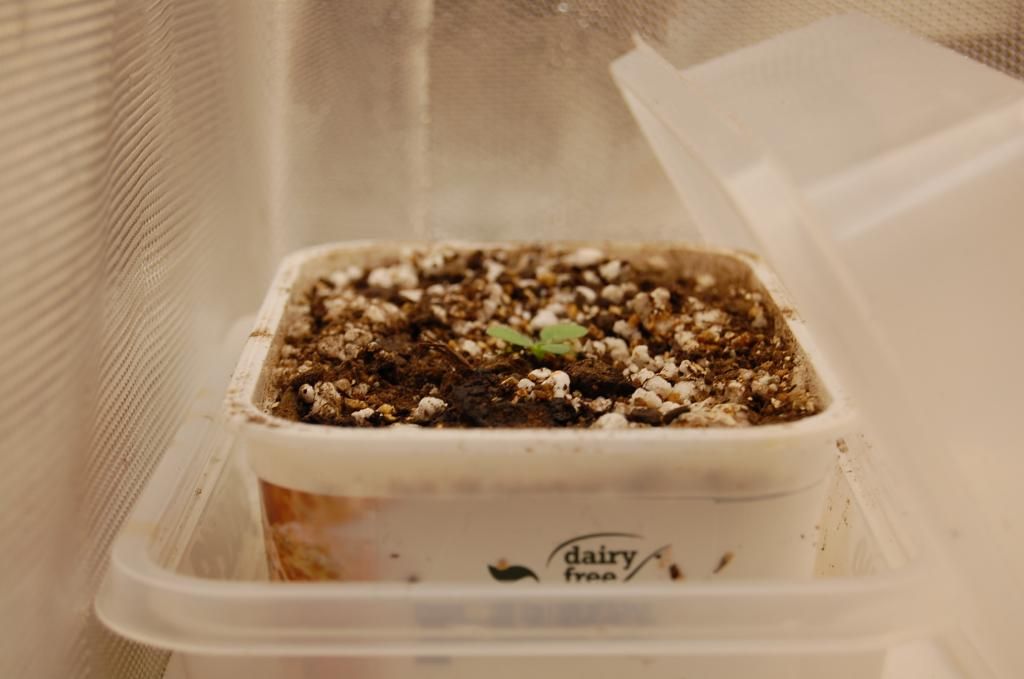 This would be my main plant and the other 32 would be backups (you can see my confidence in this going well).
Next came the grow space, Ebay was definitely my friend here.
£50ish later I was the owner of a CFL grow lamp, a small heater, thermometer and a timer (3 to be precise although I only needed 1)
Next I got reflective sheeting, then to B&Q for a thermostat and a vent cover.
Finally I picked my location - a small unused cupboard in my office room.
Some banging and tapping later this was what was left.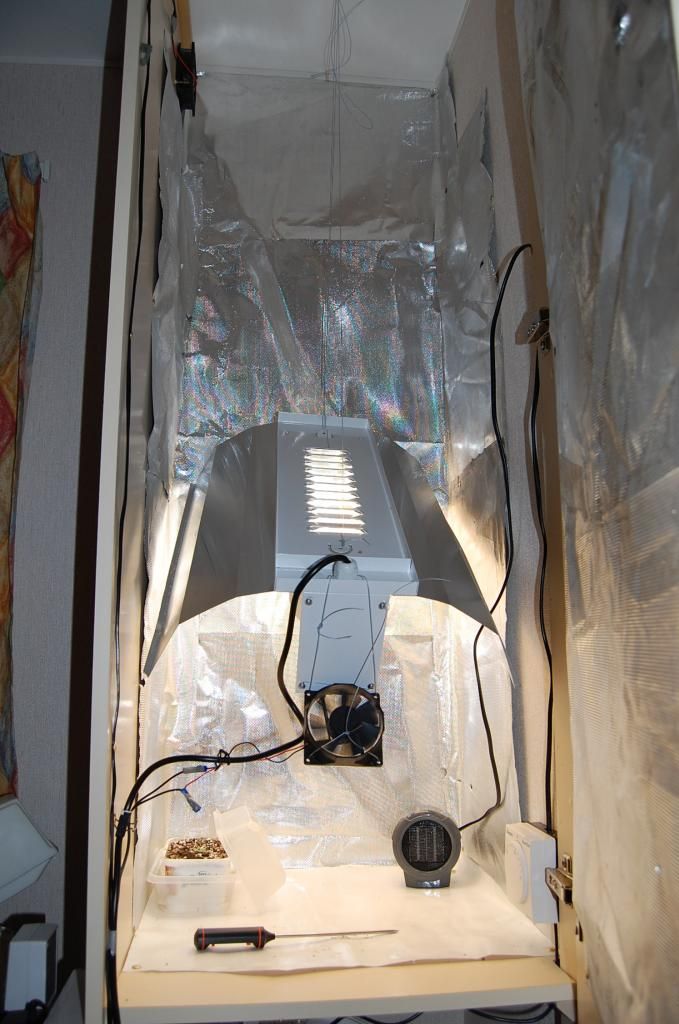 Notes:
* The fans are PC cooling fans, connected to an old laptop power supply.
* The reflective sheets are held up with push tacks.
* The wires are intentionally long to allow for raising the light.
* The bulb is 200w and the heater 100w
After a month the plant was too big for it's little pot so I decided it was time to let the backup plants go and commit to the main plant working.
I moved it to a larger pot and created a watering system.
To explain:
* The pot sits on top of a oasis block
* Inside the bottom of the pot is another small disk of oasis block which aids water transfer
* The mix inside is Vermiculite + perlite + potting soil
* The bottle allows me to water the plant from the bottom, without removing the lid.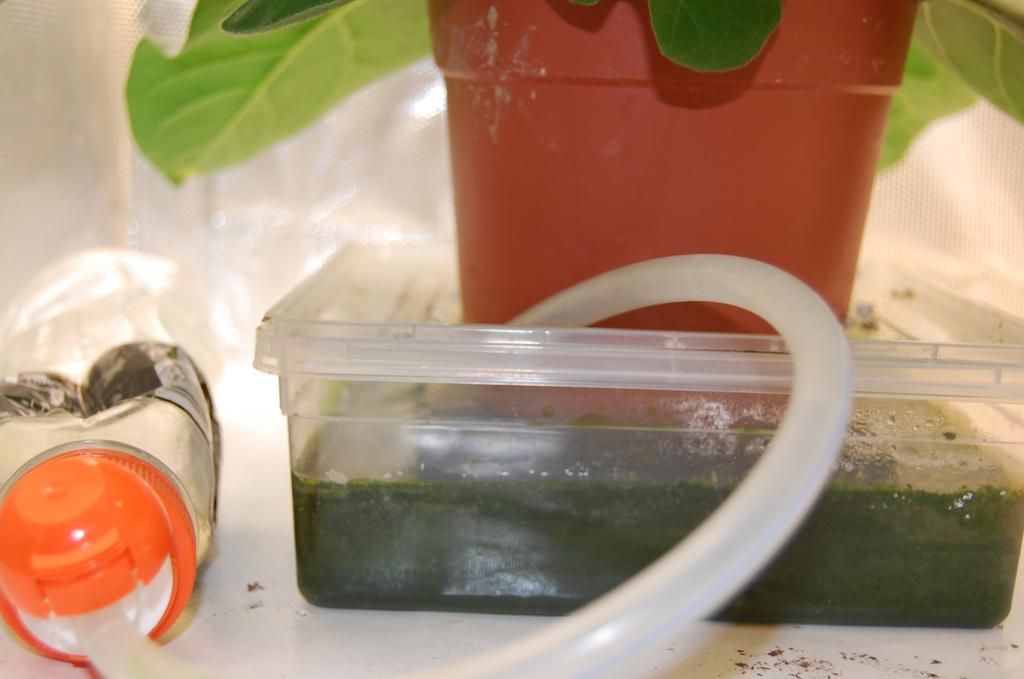 The inside temperature is kept at between 20-22C which seems to work well for it.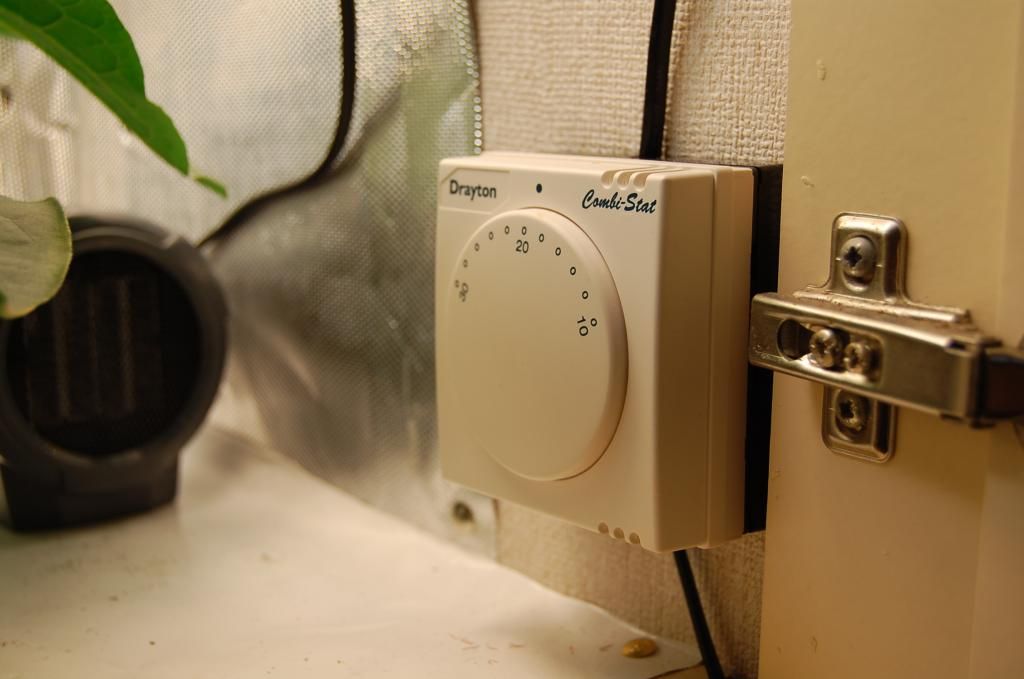 SO FAR
I'm now 2 months into the grow and am hoping it will soon be ready for harvest.
The plant appears to be growing well and every day I see a noticeable increase in plant height and leaf size which is a great sign.
Thanks for reading
If you have any questions feel free to ask