My son, a professional chef, picked up one of these out of curiosity, but found that it did not suit his needs, so he gave it to me. It is made by Kuhn Rikon, and is called a 6" Kulu. Retail is $20, but it is widely available on-line for about $15.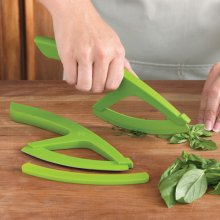 I don't like the handle at all, so I hold it by the opposite riser, with the handle extending away from my hand. Held in that manner, it makes a wonderful chaveta for cigar trimming, as well as an excellent tool for quickly making a fine ribbon-cut for pipe tobacco. A true chaveta costs in the neighborhood of $40, though you can make one from an old saw blade, if you have the shop tools to do so.
Traditional Alaskan Kulus, and European Mezzaluna knives position the handle too high above the arc of the blade, making them tiresome and clumsy to use as a chaveta. For ribbon-cutting tobacco, this redesigned kulu, when held as described, allows the distant tip of the blade to rest on the cutting board, while the edge is rocked precisely over a tightly rolled sausage of tobacco. I'm able to rapidly cut 1/8" ribbon, and with care, even finer. To limit the length of the ribbons, I rock the blade once lengthwise over the roll of sliced coins. (So a 1" thick roll of leaf cuts into 1-1/2" long ribbons.) No need for pressing a block first. The rocking blade provides good leverage, and requires far less exertion than the razor-sharp tactical folder that I had been using prior to acquiring this handy kulu.
The curved edge, like a chaveta, can be used to trim the frilly leaf edge of a wrapper. Leaning the blade causes it to cut along a curve (like leaning on skis). I now use it in all my cigar making. Each finished cigar leaves a few large leaf trimmings, as well as a small quantity of filler cut from the head and foot of the cigar. I toss the larger pieces into a nearby gallon Ziplock, then squish the filler fragments into a tight roll and ribbon-cut it. The resulting little pile of tobacco is saved in a plastic jar as random-mix pipe tobacco. I would say that the scrap from making one cigar leaves, in addition to the large scrap (for use in future cigars), about one medium bowl of pipe tobacco.
If you search for "Kuhn Rikon Kulu", you'll find numerous sites selling them.
Bob
EDIT: They also make a 4-1/2" kulu, which I believe would be too small for use as a chaveta.