This fall and winter I decided to germinate some tobacco seeds to see how long it takes these plants to reach a good transplant size in my basement under lights. My main reason is because I have a very limited grow area (4'X2') under lights and in the spring I start my peppers, tomatoes, onions and so on under there, so want to know when I should plant tobacco seeds to fit them into the mix. I plan to seed in 3" pots and keep them there until time to transplant in the garden. So I tested out a few ornamentals plus a virginia (failed to germinate), a turkish (germinated but lost the seedlings) and a rustica. Here's how the rustica did, in case others want to estimate the size after X weeks.
Rustica at 6 weeks from planting the seed. This I think is the size I will aim for in the spring:
Rustica at 7 weeks, really taking off. A nice size, but with my limited space and the way this plant spreads sideways, it is too big to share space will my other bedding plants now: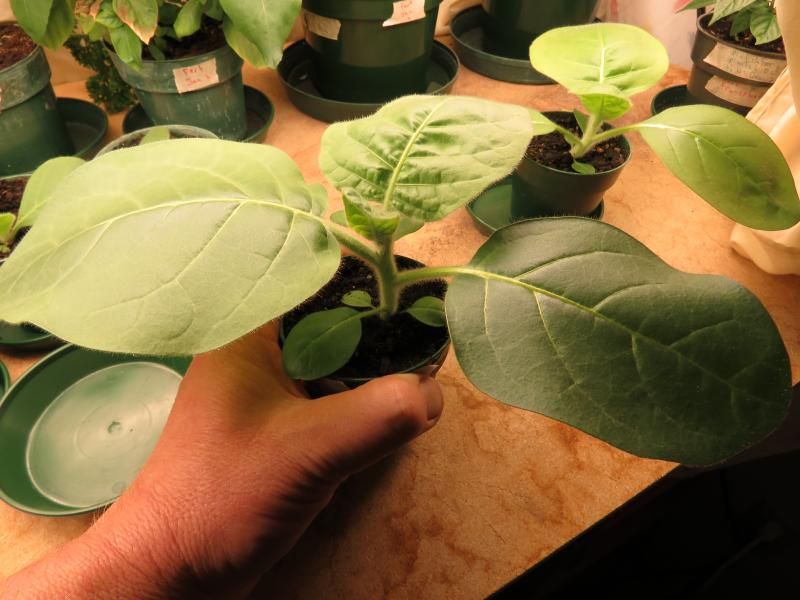 Rustica at 8 weeks, growing a stalk now:
So now I'm just letting it grow until I need the space for bedding plants. Here's rustica at 10 weeks, getting flower buds. My lights are on chains so I can raise them up, but there's a limit to how far so hopefully this doesn't get much taller. Be interesting if I could get it to flower and set seed, as certainly no risk of having it cross-pollinate indoors.