Hi everyone, I am new to the forum. I have been growing outdoors this year with great success so I thought I would try an experiment with an aquaponics system that I just set up in the basement. The plants I am growing are some very neglected and stunted burley seedlings that my neighbor gave me. He had planned to throw them out so I figured I have nothing to lose by trying to grow them indoors.
This is an aquaponics system that i set up for winter gardening. For lighting I am using 2 T12 fixtures each containing one red and one blue spectrum bulb. I plan to run the lights on 12-14 hour cycle with a timer. The fish I am using for the tank are plain old rosy red feeders and goldfish from my local pet store. The idea is that the waste byproducts that the fish produce are devoured by helpful bacteria in the growbeds and turned into usable nutrients that the plants use for growth.
This will be my first time growing tobacco indoors and also using an aquaponics system to grow anything. I will keep this thread updated as my grow progresses or fails. (whichever comes first
)
Heres some pics of the set up:
This is a front view with the tank shortly after I set up the system and filled it halfway with water.
Top view of the system running before I added the plants.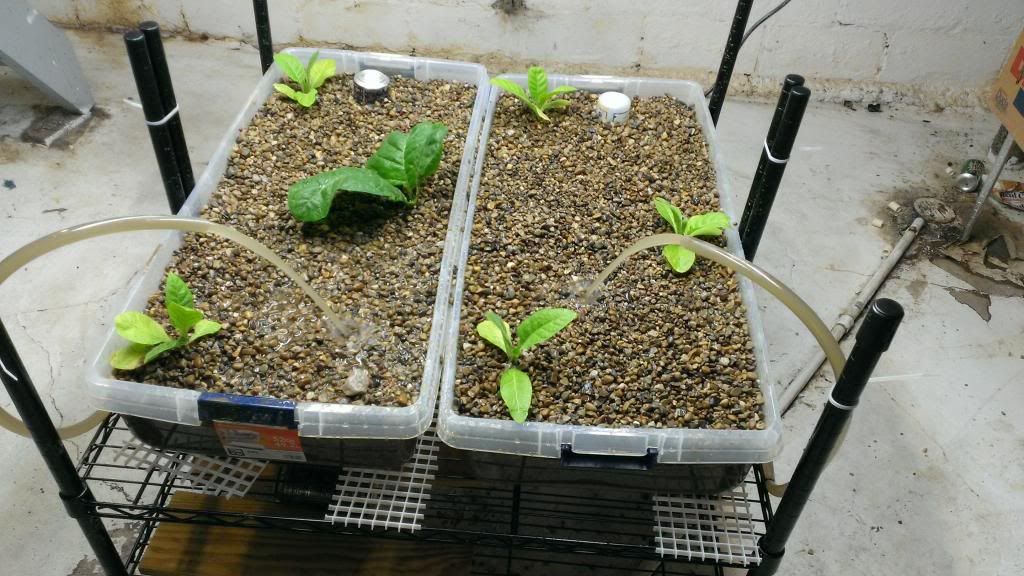 Top view shortly after I planted my seedlings