Here is a bug (actually a set of domestic partners) that has lived and hunted on one of my blackberry plants this summer. It pretty much stays in one location, week after week. Must be good hunting.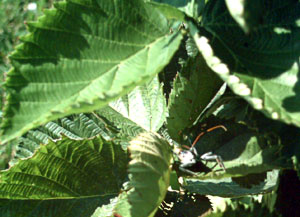 As with a praying mantis, this bug, a wheelbug, is attentively observant of my presence and my movements. It's always facing me, and prefers to remain partially hidden.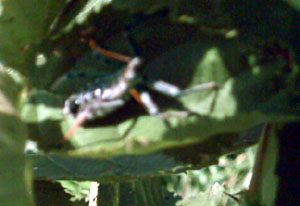 This blurry image is the only one I managed to capture that shows the whole wheelbug. Its abdomen is flat, and up curved, giving its back end a vague resemblance to a scorpion. But the business end is the front end.
Instead of a typical mouth, it wields a single, hollow saber, which folds under at the tip of its narrow head. It specifically hunts Japanese beetles. With its two front legs, it pins down the victim, then plunges the pointed saber into its body, so it can suck out its juices. The bronze colored saber, held high, and pointing downward (indicated by the red arrow, below), is surely the inspiration for the "Brain Bug" in the movie version of Heinlein's
Starship Troopers
. (If you didn't see the film, with the best cgi mass bug attacks ever created, the "Brain Bug" would plunge its saber mouth into the top of a human head, to suck out its brain.) Notice the upcurving back, and the powerful front legs.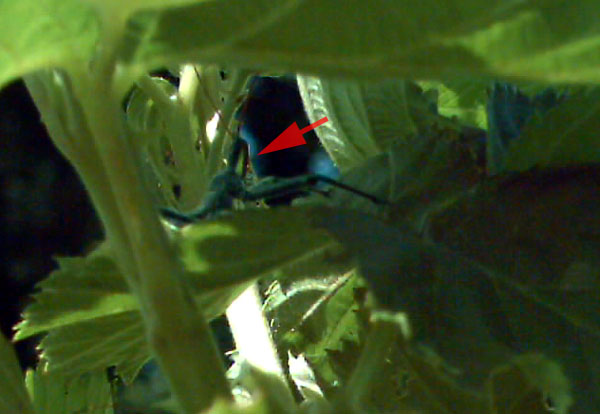 Eats Japanese beetles: good. If you see one, it's your buddy.
Will use its 1/4" long saber on your finger: bad. If you see one, don't touch it, or try to move it.
The bite of a wheelbug is reported to be quite painful, and apparently, like the bite of a brown recluse spider, tends to necrose, and heals poorly, leaving a scar. Nobuddy's perfect.
Bob