A little history
In 1990 I was selected to be part of the US/UK Non Commissioned Officer Exchange Program. This meant that a soldier from the United Kingdom would come to the US and train with me, then later I'd go over to the UK and train with him. I packed my normal 3 cartons of Winston 100's in my duffle and off I went to London. Was then shipped the same day to a training site in Wales. Most of the UK Soldiers were smoking RYO as regular packs were like 5 pounds a pack (or some unGodly high amount...the memory is hazy as to the exact price...but I do remember it was expensive). Either I planned poorly or my stay was extended, but either way I found myself in need of additional smoking material. So, I went native. Figured "when in England..do what the English do", or was that Rome and Romans?? After smoking my first RYO, I found it smooth to the taste. If I set it down, the cigarette would extinquish itself and not just burn itself out like a regulated fuse. I could then relight at a later time. To do that with a Winston you'd have to press the smoke out by pressing it in a tray and deforming the end of it. Anyway, from that date forward, I've been smoking RYO cigarettes.
Finding RYO tins has always been a little hit or miss. If a store carried it at all, they only carried one or two types, and were even then prone to running out (which is something NO smoker wants to happen). When I found some, I stocked up by buying like 8 tins at a time. The tins were $5 a piece. As time passed, the prices continued to rise. Prices ranged from 8-13 $ per tin up until April 1st. Then Obama did his bit, and now it's $29/tin. Just as bad as the prices were. My suppliers even stopped carrying RYO, figuring that since the price or RYO and commercial smokes was nearly the same, that no customer would be buying them. The only place nearby me in SC that even carried RYO B.O (Before Obama) was CVS Pharmacy, and they only carried Drum. I was driving 2:15 each way up to JR Tobacco in Statesville NC and cleaning them out every few months. Now, A.O (After Obama) they aren't selling it at all, so I find myself scouring the internet, and ordering from AmericanThrustTobacco in NY. They are even runnning out or having products "discontinued". I ordered a case (24 tins) and sometime later, heard that Bali Red was going to be discontinued, so I placed an order on nearly the last day for 2 cases (48 tins) which cost $1200.00 USD. I thought to my self "this is just assinine. Something is just plain WRONG with this picture, but what can I do????
The Plan (or evil scheme)
It was late in May of 2009.
I searched the web and when I found out that growing the stuff was actually legal (for home use, I.E not for sale) to grow, and that there were sites which would be good enough to sell me seeds, and even sites which would instruct me as to how to actually do it. I own 3 acres here out in the "boonies". Already had an established gardening area with vegetables in the process of growning. I have a credit card with some credit still on it (unlike the two my wife has...but, that's a whole different story). So,,,I do have everything needed to grow some smokes and have a reliable source with which to feed my addiction.
Implementation of THE PLAN
Since reading this site, I knew I was getting a late start on the growing season, so I had to hurry. I'd seen the Seedman Site and decided to get going. But what to grow? There were many options and I didn't know Burley from Barney (no,,not Barney,,, that stupid song is in my head again...). Then I had to wonder "how much to grow?", "how much space is this going to take?", and many others. I read the side of my can of Bali Shag Red and it said "Bali Golden Shag is blended from the finest Virginia and Orient tobaccos, with a full flavoured taste like Virginia Cigarettes." So, I needed to try and get close to that, but how? I found the Virginia Gold, and Turkish black sea samsun, but still didn't know if blending these two would do it. There were so many types and so little time with which to choose. I decided to buy several varieties, hoping to get something that would work. I knew I had to hurry, that much I was sure of.
As to how much, I calculated thusly. My tins were 5.29 oz, each tin lasted me X days. Websites showed I could expect from 3-6 oz per plant of dry smokeable stuff. So I needed 1.5 plants per tin smoked. A tin of RYO is close to a commercal carton of smokes. Each plant would be spaced 2' apart in 3' spaced rows. I know now I needed to expand the garden from 16'x42' to 38'x48'. My existing crop would be almost finished by the first of August. I would still have 90 days before first frost, and if I acted quickly and got the seeds in the soil, they'd be the required 6-8 weeks old about the time my existing harvest ended. Time was my enemy.
The Order
From
This page at Seedman.com
I ordered:
One set of 5 of the ST1020WH Standard 1020 Tray ( Flat )with Holes
One set of 5 of the ST1020CV Propagation Dome for 1020 Trays
and
One set of 5 of the ST1206 72 Cell Plug Flat Insert for 1020 Trays
I'd read that some germinated the seeds in a tray, to later transplant them to 4" pots, to later transplant them to the ground. As time was my enemy, I figured I'd be planting them a little sooner than most, especially since I didn't have to wait for last frost, so I chose to seed them directly into the 72 cell trays, then transplant to the garden. Skipping one step here.
I ordered the following seeds from
this page at Seedman.com
:
One package of TA14 Common Smoking Tobacco ( Tabacum Burley )
One package of TA101 Golden Seal Special Burley
Two packages of TA202 Virginia Gold
One package of TA62 Yellow Orinoco, but had meant to get one package of TA102 Lizard Tail Orinoco, but I was in a hurry and screwed up.
and
One package of TA55 Black Sea Samsun Turkish
The shipment arrived one week later, intact, and contained the quantities and items ordered.
From Lowes I purchased:
One bag of Miracle Grow Potting mix
One bag of Peat moss
(NOTE: I'd meant to get Potting SOIL, not Potting MIX. The mix has relatively large chunks of tree bark in it that might get in the way of proper germination. Imagine the seed landing on the bark and not the dirt, Not much root potential there. But I paid attention to the potential problem, and as I'm writing this 5 weeks after sowing, I can say it all turned out fine)
Here we go, the Sowing, June 10th 2009
I'd read the seedlings needed to be watered from the bottom so as to not disturb the delicate roots or even wash the itty bitty seed completely away, but I ordered the trays WITH holes for a reason. I planned to lay a tall kitchen trash bag in the bottom to catch the water that drips from the cell tray. That way, after they've got roots and can be hardened off outdoors, I can remove the bag and gently water from the top and the water can go out the holes in the tray. Meaning, I only needed one tray and not two (one with and one without holes).
I took a 5 gallon bucket. Added two handfuls potting mix, then one handful peatmoss, mixed it in the bucket, then continued adding a two to one ratio until I had enough to fill three of the five 72 cell trays. Roughly, 1/3 the volume of the bucket will suffice. I then remixed the mix until I had a decently blended mixture.
I then used my hands and poured the mix little by little onto the trays, spreading it evenly until each tray had enough loose soil to reach the top of the cell rims. Remember, this is loose soil and will compact when watered. Remember also, I planned to skip a transplant procedure and go right to the ground with the plants. When transplanting you plant the new plant a little deeper than it formerly was. If I just leave the cells with the loose soil level to the cell top, then when I water it will compact to about 1/4" below the cell rims. Leaving me room to add more soil in 3-4 weeks and to "simulate" the missing transplant step and hopefully not suffering the transplant shock phase, and perhaps shave a couple days off the grow . That's the plan anyway. Then
gently water your new soil thoroughly
, it will take several passes for the water to absorb completely . Take a break and let the water temp warm to the ambient air temp and let the water permeate the soil. 30 minutes should be good enough.
I labelled the provided stakes (came with seed packet) as to the type of tobacco. The plan is to have a full tray of Virginia Gold, and 1/2 a tray of each of the others to blend with the Virginia Gold. Then I poured each pack onto a paper plate. Took the plate to the gardening area. I used my finger tip, pressed them against the seed, then examined my finger for quantity. Knocked a couple off and tried my best to put two seeds/cell, after I was done and still had a lot of seed left. I picked up more and just kinda spread it around as evenly as possible. This was done for each variety. I put the moist seed trays in the bottom trays which I'd lined with a tall kitchen trash bag. Carried them to the house and put them on a table in the bedroom. It has a bow window which faces WNW. Since it's South Carolina, we had the AC set to 80 degrees, meaning the seeds were held at just over that amount as we shut the vents in the bedroom so we don't have to keep that room cool all the time. I then took another of the bottom trays with holes, lined it with a tall trash bag, went to the bathroom counter and filled it with water to about 1" from the top.
I then gave each seed tray a dip in the water to ensure it was moist throughout.
I left each tray in the watering tray for about 10 minutes. This is how I will water them until it's time to harden them. Then I returned them to thier home in the bedroom and put the clear dome over each one.
I watered them twice the first day, and then only once per day until germination
June 14th 2009
I noticed my first germination of seeds and infact many/most seeds of all the trays showed germination within a 12 hour window on that day. So, it took 4 days to germination for me. I removed the clear plastic domes permanently as this point. Don't think they did much, but hey, I'd purchased them.
June 15th 2009
Place two 27 watt CFL lamps (equiv to 100W regular) over seedlings, on from 8 am-10:30 pm each day.
I cut watering to every other day
or as needed to keep the soil moist but not waterlogged.
June 21st 2009, End of first week after germination
June 23rd 2009
1st true leaf appears on most seedings, thin to two or three plants/cell
June 27th 2009
Place trays outdoora from 8 - 12:50 a.m on table top on corner rail out of direct sun at all times.
Start applying fan to plants in bedroom for 3 hours.
June 28th 2009, End of 2nd week after germination
Most are Coresta stage 1001 or 1002. 10% are 1000, 80% are 1001, 10% are 1002. You can rate your own at
coresta.org
, or hopefully this link to the
Coresta PDF
link works. Place trays outdoors 8-12 a.m,
then fan in bedroom for 4 hours,.
Thin them down to two/cell.
Lights on from 8 am-10:30 pm.
June 29th 2009
Topped the soil up on 3 rows of each tray with peat moss, to simulate transplanting and burying up to the leaves. No outside trip today, No fan run.
Lights on from 8 am-10:30 pm.
June 30th 2009
Water
,
use fan for 3-4 hours,.
no outside trip.
Lights on from 8 am-10:30 pm.
July 1st 2009
Topped off the rest of the cells in all trays,
applied fan,.
and
lights weren't on up until 4 PM
(dang wife), no outside trip.
July 2nd 2009
Lights on from 8 am-10:30 pm.
, seem to be surviving the topping off,
turn on fan 4 P.M..
No outside trip.
July 3rd 2009
Lights on at 4 p.m.
no outside trip.
Turn on fan for 3-4 hours..
July 4th 2009
Plants outside on rail, bring in at 11 am,
apply lights from 8 am-10:30 pm
and
fan for 3-4 hours..
Water in P.M.
July 5th 2009, End of third week after germination
Lights from 8 am-10:30 pm
Add fan for 3-4 hours ..
July 6th 2009
Lights from 8 am-10:30 pm.
add fan for 3-4 hours..
Noticed one Third true leaf. Need to look closer tomorrow.
July 7th 2009
Lights on,
July 8th 2009
Lights on from 8 am-10:30 pm,
fan on for 3-4 hours,.
water in a.m.
July 9th 2009
Lights from 8 am-10:30 pm.
and fan on in a.m..
Most are Coresta stage 1003, a few appear to be entering 1004.
July 10th 2009
Lights from 8 am-10:30 pm
and
fan on in a.m..
Noticed the center plants getting taller than those on the two outside edges, moved light to the nearest side to get them more light. Perhaps I should switch to 4' flourescent bulbs?
July 11th 2009
Lights from 8 am-10:30 pm
and
fan on in a.m. .
July 12th 2009, End of fourth week after germination
Lights from 8 am-10:30 pm
and
fan on in a.m..
Water in P.M with Fertilizer
, transplant extra seedlings to the two empty cells.
July 13th 2009
Lights from 8 am-10:30 pm
and
fan on in a.m..
Plants seem to be accelerating in growth.
Misted plants with tepid water with mister.
July 14th 2009
Lights from 8 am-10:30 pm
and
fan on in a.m. .
July 15th 2009
Lights from 8 am-10:30 pm
and
fan on in a.m..
Buy more potting mix to use with my existing peat moss for one more trays worth of plants after thinning cells down to one plant per cell.
Misted plants with tepid water with mister.
July 16th 2009
Lights on from 8 am-10:30 pm,
Mixed soil 2 parts Miracle Grow potting mix, one part peat moss and put in starter tray, found out the trays are 72 cell, not the 78 cell I thought they were originally.
Watered soil thoroughly.
Transferred the 2nd plant in the cells to the new tray; 3 rows Virginia gold nearest the stake, 1 row Goldens seal special burley, one row Common smoking burley, and one row Black sea samsun. Also filled a dozen dixie cups to take to work and give away.
Misted plants with tepid water with mister.
July 17th 2009
Today is the day I typed this long post. Just as a side note with no dates. I've already layed out the new garden area, tilled the grass under. Added 10 backhoe bucket loads (about 5 inches worth) of top soil and smoothed. Tilled that under. Did a soil test. Added 16 lbs aluminum sulfate to lower the Ph. Installed the T posts along the border of the new garden (had to steal some from the old garden making it's chicken wire rather flimsy. Just waiting on the wifes help keeping the dogs in the house so we can take down and reuse the chicken wire to fence in the new garden. The dogs would love nothing more than to run through and knock over the corn, tomatoes, beans, peppers, etc. Also have 150' of new 3' chicken wire to add to the old. The old garden currently sits inside the area of the new garden.
Lights on from 8 am-10:30 pm,
no fan run as wife was using it.
Misted plants with tepid water with mister.
Here's an Autocad 2006 Mechanical drawing of my proposed garden layout. Note: .0833 = 1 inch, .17=2 inches, etc. All dimensions are in Feet. Each circle represents a plant 2 foot in diameter. Each group contains 39 plants. 39 plants times 6 groups equals 234 plants in total. If I have enough of the varieties in the "extra tray" (taken when I thinned to one plant/cell, then I can plant them 2' apart instead of the 2' 2" shown in the drawing and add 4 more plants per group, or 24 more plants total.
Note: There is a typo on the Acad drawing. Virginia Gold TA-212, should read Virginia Gold TA-202.
The garden is 1824 sq. ft in size. I've read everything I can in regards to specific nutrient requirements. Compared it to the soil test results and plan to apply the correct amount to get it to where it should be about a week prior to transplanting. I will then apply only the nitrogen and potash it should be consuming from the soil as it grows. I plan to stop all nutrient additions after topping occurs. I also plan to do two applications of liquidized acephate and one application of liquid sevin during the growth cycle. I'll spray the Acephate within one week of transplant, then again 3 weeks later. Then apply just the sevin after that. Hopefully, the acephate half life will have removed nearly all of it by plant maturity. I've also applied "grub-ex" a week and a half ago, and will again prior to planting.
Anyone read this whole thing and have any suggestions, comments, alterations, negations, additions, etc to the plan or development?
July 18th 2009
Got home last nite and could swear some grew 1/4" while I was at work. A recent storm made 80% of my corn lay down facing east. Thought of propping them back up but decided that since we were harvesting them next weekend anyway, that we'd just do it now. Leaving the stalks so I can till them under. Took down the old garden fence, pulled the T Posts and put the posts in on the last side of the new garden outline. Restrung the old fence as far as we could on the new posts. Added new fence to completely fence in the new garden.
Put the trays outside this morning. They got full sun at 1 P.M for about 45 minutes (for the first time). The tray of newly transplanted and the smaller ones in the established trays didn't seem to fair well with full sun. Leaves got really droopy. The larger plants seemed fine. Brought plants in,
turned lights on from 2-11 pm.
Gave each tray water.
Misted plants with tepid water with mister.
Spread 16 lbs of Aluminum Sulphate(to lower Ph(second application)), and 10 cu. ft of peat moss across entire garden. Amounted to little more than a dusting of peat. Need to find a bulk supplier as the bags are 18$ for 3.8 cu ft. Most plants are Coresta stage 1004, and a few are 1005. The largest of the leaves measures 2" stalk to tip, and only 1 1/4" is leaf. The transplanted and established plants seem to have recovered from the sun exposure. All except two that is. One of the transplanted Common Smoking Burley plants now has yellow patches. One established Virginia gold (the smallest one) seems to be dead. It's laying wilted on the soil.
July 19th 2009, End of fifth week after germination
Placed all trays outdoors in the a.m. Picked everything except one cherry and one big boy Tomato plant. Tilled the entire garden, working in the Aluminum Sulphate and peat applied yesterday and all the bonus green matter. Bring trays in 12:45 (before direct sun) and
put under lamps the rest of the day.
July 20th 2009
Lights on all day,
Fan on in the a.m..
Misted plants with tepid water with mister.
Called local chemical company that services farms. Ordered two 50lb bags of
Super Rainbow for Tobacco
Fertilizer. Felt kinda sheepish troubling the "service rep" for just two bags when I'm sure his normal customers have more than just 4% of ONE acre to fertilize. LOL
July 21st 2009
Temps hi/lo 88/68 74% RH at 11 a.m
A really big day for the plants. Decided it was time to start hardening them off. Largest leaves are only 1/4" from the recommended 2" length needed to transplant. The smaller ones still need time to grow. The CFL lighting wasn't giving an even amount of foot candles of light across the tray, resulting in the middle plants growing larger than the outside ones, or atleast that's my assumption. It's too close to transplant time to correct this by moving the lamps from outside to outside edge. Hopefully the sun will lend a hand in this, or atleast make them grow faster. I've set up two sawhorses out under a Magnolia Grandiflora tree just inside the drip line(two feet inside) and towards the NE. Also, I can easily see them from where I sit inside the house, so as to both enjoy the view and to ensure the dogs (four of them) don't get too curious. It's numerous large leaves should protect the plants from sun and most rains (rain running sideways in high wind might get to them). I put four 1x4's on the sawhorses. Removed the trash bags from the trays and moved out onto the boards. At 10 a.m about the 1/2 of each tray has morning sun on them. By 10:30 they were all in the shade.
Big relief...got home tonite after dark. Checked plants with a flashlight. All seem fine...Ahhhh....
July 22 2009
Temps hi/lo 92/70, 98% RH at 9 a.m
Water plants with hose for first time. Used the "mist" setting and watered until water came from holes in bottom tray.
. Nozzle was kept 3' from trays to reduce the pressure. The larger plants leaned to the soil with the weight of the water on the leaves. Since the plants did fine yesterday, moved them 4" closer to the drip line to get a bit more sun. Due to forest 55' east of the Magnolia, the plants don't start getting direct sun until 9 a.m and should be fully shaded by the tree at 10:30 a.m, so they're getting 1.5 hours direct morning sun and that's it for the day. Night time flashlight check of the plants reveals everything still OK.
July 23rd 2009
Temps hi/lo 92/70 87% RH at 9:34 a.m.
Moved trays out 6-8" in a North Easterly direction from the trunk. The outer most edge of the trays is nearly at the drip line. The Super Rainbow fertilizer site shows that
Burley (4,000 lb/A 290-37-321 lb/A NPK)
takes significantly more nutrients from the soil than does
flue cured (3,000 lb/A 126-26-257)
tobacco. My existing planned layout will allow me to use less fertizer on the Virginia since they're seperated from the Burley. Hmm, Is Black Sea Samsun considered Flue cured, or Burley tobacco? From reading the "flue cured tobacco guide from NCSU" it says the uptake quantities for flue cured are 60-15-90 lbs/acre, which is significantly less than the fertilizer site figures. Ofcourse the Yeild rates/acre are different and NCSU figures don't give a yield/acre for comparison. The plants first saw full sun at 8:42 a.m, and were still 80 covered at 11:30 a.m. Some small leaves that were touching the black plastic sides of the seed trays were wilted and stuck to the plastic. Pulled leaves away from plastic, and pushed trays in towards the tree 4". Got home, used flashlight. Any plant that had a leaf touching the black part of the tray now has dead leaf, the damage stops abruptly where the leaf no longer touches the tray. hmmm.
24 July 2009
Temp hi/lo, 95/70
The local tractor supply, lowes, and the farmers milling co did not have a means to supply me with the potash requirements, I'd read about. Several sources say not to use "muriate of Postash" due to the chloride content. I had already purchased some, along with Epsom Salt (Magnesium Sulphate), Ammonium Nitrate, Triple Superphosphate, and Gypsum. Finally I found a local chemical company willing to sell small quantities (50lb bags) of a 6-6-18 w/micronutrients specifically made for tobacco. It's called Super Rainbow for tobacco. I ordered two bags to try and make it worth his time, even though at 667 lb/acre, I only needed 26 lbs per year. Anyway, since I had the stuff already before I found the complete fertilizer, I went ahead and put a little of each down today. See below for amount applied (note: I held off on applying the gypsum until the soil tests come back)

Before doing so, I took a soil sample from the new and the old garden. Performed the analysis and it still says I have 6.5 Ph in the new garden and 7.5 in the old.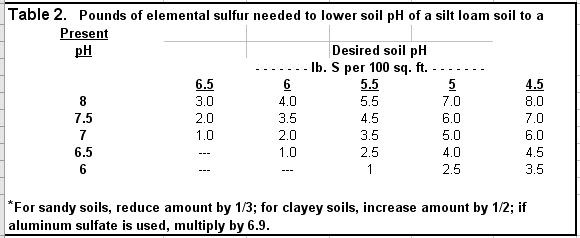 I've previously spread 8 lbs aluminum sulfate on the old this spring, then 16 more across both gardens after tilling up the grass and adding top soil. I added 16 more last week, and have 16 more sitting in the kitchen to be put down. I found a chart (see above chart) website and it recommends I put down 251 lbs of aluminum sulfate(6.9 times what it would take for Sulphur). What? that's alot of stuff in one little garden. I called the super rainbow supplier/salesman and asked about elemental sulphur, since that should do the trick with just 36 lbs, He asked about the soil's origins, and can't believe it's that high. He's coming out next week to pull a couple samples and send to
Watersag.com
. What great service so far, wondering a little about the bill though. LOL I did finally find a supplier for potash, it's called "K-mag", but they only sell in bulk, and can't do it one gallon bucket at a time. See below pictures in post dated July 24th.
We had about 10-15 min worth of good rain today
July 25th 2009
Temps hi/lo, 95/72, 52% RH at 12:25 P.M
Moved trays further from the trunk. Now have Sun from 8:40 A.M.-12:30 P.M. Noticed a couple droopy leaves so I rotated the trays 180 degrees (end for end) so the droopy ones will be in the shade shortly.
Purchased two rolls of 3'X50' 4 mil black plastic and installed it on the NW and SW portions of the fence with about 12 feet covering the SE side of the fence. It is my hope this will cut down on the wind enough that I don't have to make 260 three foot stakes to keep the plants upright. The fence has 3' chicken wire fence, then I applied the plastic sheet and put another section of 3' chicken wire over that (plastic is sandwiched between chicken wire) to keep it in place. Perhaps you can see I already have a nature made obstruction to winds from the North and NorthEast. I call it a forest.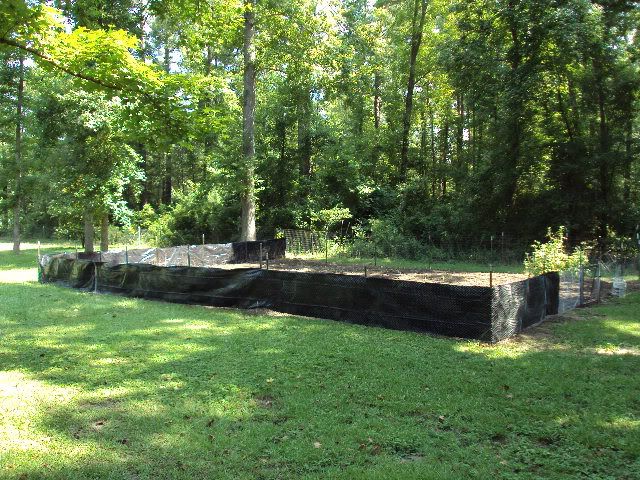 The camera is pointing North. Garden measures 38'x48' (those green things are the remaining two tomato plants)
July 26th 2009, End of sixth week after germination
95/72 60% RH at noon.
EEEK, the ones in the transplant tray are all droopy leaves (noon), some in the established trays are. Lifted tray, feels light compared to when fully watered. Pushed trays up into the shade,
and watered liberally
. I think they need more frequent watering outdoors than they needed indoors.
July 27th 2009
92/72, 70% RH at 11:25 a.m.
Fertilizer salesman took soil samples to send to
watersag.com
. He took one look at my only two remaining garden plants, and said "Your tomatoes have Tomato Spotted Wilt Virus, and it'll spread to your tobacco. It's caused by Thrips and probably happened at the nursery (aka Lowes). Mixed 1/4 teaspoon 75% Acephate to 8 ozes water and applied to the tobacco plants with a spray bottle. Noticed holes in the leaves.
July 28th 2009
95/72, 63% RH at 1:00 P.M.
In an effort to kill any thrip that might possibly infect my tobacco, I used a fertilizer dispenser (attached to garden hose) that is adjustable as to the rate it takes the chemicals out of the bowl and adds it to the spray water. Poured in 3 - 4 ozs of Sevin (22.5%), topped off with water, and sprayed the tomato plants, hoping to catch the critters still on the plant. I also sprayed everything (including the tilled soil) within 30 or so feet from the outside edge of the garden (including the garden). Had to mix up new bowl full twice. Let it set for an hour, then took some trash bags and bagged up the tomato plants for disposal. Didn't carry the bags anywhere near my tobacco starts, nor did I touch the tobacco the rest of the day. They have a two week life cycle (egg - adult) and can live 30 days, but only can be infected with TSWV during the first instar of their life by feeding on an infected plant. I'm hoping to kill enough of the current generation that by the time I transplant, that generation will be gone. I.E get rid of any source that can infect the new generation.
July 29th 2009
88/72 77% RH at 11 am
Really boring now, waiting on the soil samples.
watered liberally. Got 45 min worth of rain. Wasn't home so I don't know how much got through the leaves of the tree to reach the plants.
.
July 30 2009
90/72 79% RH at 10:30 a.m
July 31st 2009
92/72 78% RH at 10:10
What a difference a week makes.
This picture was taken on July 24th. The largest leaves measured 1.75" stalk to tip.
This was taken today (one week later), the largest leaves measure 3.75" stalk to tip, so thy've grown 2" in a week. Man they don't grow fast until the roots get established, do they?
Ended up putting down the entire 40lb bag of gypsum. Tried to do only 20 lbs, but to keep the application even I had to. Gypsum was added for it's water retentive properties, not just the nutrient properties.
August 1st 2009
92/75 95% RH at 10:28 a.m.
Since Acephate is systemic and the plant growth is tremedous, I worry that the new growth isn't as protected at it should be, so I added 1/4 teaspoon 75% acephate to 8 ozs of water and misted the plants again.
August 2nd 2009 End of seventh week after germination
88/72 83% RH at 9:53 a.m.
Water liberally
. I wish I could put these in the ground, they're definitely ready. Just waiting on soil samples to see if I need Sulfur or not to lower Ph. Also waiting on Fertilizer, but that wouldn't stop me. Will definitely have to remember to start hardening when largest leaves measure 1 1/4" to 1 1/2" stalk to tip next year, they're just too huge now to be in the little tray cells. Today is their 12 day hardening off, so the two week hardening process looks like it will happen.
August 3rd 2009
90/72 78% RH at 10:45 a.m.
Did some research, found out that Sulfur AND fertilizer don't have to be mixed in deeply with the soil via a tiller/hoe. Got tired of waiting. Tilled the garden in prep for transplanting. Laying out the string (see horizontal rows in Acad print below) so I can hoe the soil up into straight raised rows. More like small piles of dirt at each plant location.
August 4th 2009
98/72 54% RH at 12:00 p.m.
Ran the string at two foot intervals (see above cad print) vertically to lay out the precise plant locations. Now I have a grid to work with. Still haven't gotten the sample results back yet.
August 5th 2009
95/72 82% RH at 9:36 a.m.
Got the Soil test results. New garden 6.8 Ph, 7.8 Ph buffer. Old Garden 6.5 Ph, 7.8 buffer. Put down 4 lbs Aluminum Sulphate on Old garden (640 sq ft) and 12 lbs on the new garden (1184 sq ft). Will post pics of the soil tests after I get home from work.
Water liberally, plants on the edges of the tray starting to wilt
To be able to read the following, click on "full size" on the bottom left after opening these images.
Here's soil sample test result one.
Here's soil sample test result two.
And heres a summary:
August 6th 2009
92/70 77% RH at 11:49 a.m.
Having lost all patience with the fertilizer guy. I've made a dozen calls to local places trying to find "elemental sulfur" or "flowers of sulfur". NO luck, must be noone in the south ever needs any. The local Lowes store doesn't have it, but the website does, but only in 5 lb bags @ $9/bag. I ordered 5 and they're shipping it to the local lowes for pick up(whenever that happens).
I placed the order for two 50 lb bags of Super Rainbow 6-6-18 for tobacco on July 20th. On the 27th he took soil samples and I inquired about the fertilizer. He stated it was on the truck and had left Mullins SC. On the 31st I called about the soil samples and the fertilizer. He informed me it would be here Monday (last monday), and he'd call about the samples and call me back. No call.
I ended up calling the head office the fertilizer guy works out of on Wedsnesday and they have no record of my order. They even contacted the warehouse manager and another store. They did recieve the snail mail copy of the results of my soil sample on Tuesday and would scan them and email them to me (why didn't the salesman call when he got the email copy on Friday????. They're going to check with the salesman and get back with me about the fertilizer. Great, now what do I put down pre-transplant. Transplanting is going to have to be Saturday and Sunday night as I work second shift and can't do it this week at night. Grrrr.
August 7th 2009
95/70 73% RH at 10:21 a.m
Turns out the guy at Lowes lied about them not having Sulfur. After my online order I looked back at the email and the status had changed to "processed, ready for pick up". It had only been three hours, I'm thinking they must have the best transfer system around, OR...... I called the store to confirm, and they said, "yeah, we have it. I pulled it from the shelf and it's sitting behind the service desk waiting on you". This morning someone from the fertilizer place called and said my order was in there as well. I picked up both and made it to work with 5 min to spare. Will be applying the Sulphur and 16 lbs of the 6-6-18 fertilizer in a broadcast application tonight after I get out of work (way past dark), then water in the chemicals tonight in preparation for tomorrows transplanting. Will also water the trays one last time tonight.
Got home, parked the truck to shine the headlights onto the field. Spread out the Grubex, 6 lbs of Sulfur on the old garden, 19 lbs of sulfur on the new, spread out roughly 1/3 of the 50 lb bag of 6-6-18 fertilizer and watered for 45 min from each of two locations (sprinkler won't cover from just one spot).
water plants
August 8th
Transplanting day
95/68, 100% RH at 8:18 a.m.
Here's what they look like before transplanting:
Before the sun was upon the garden, I managed to get the whole group of Black Sea Samsun and 1/2 (the left half) of the Yellow Orinoco. The Yellow Orinoco was ordered by mistake and is listed as chewing tobacco, so I decided to only plant 1/2 group and will fill the other half with Virginia Gold. Waiting now on the setting sun to plant more....
Planted the other 1/2 of the second group with Virginia Gold, then put in the 3rd group with Common Smoking Burley. Yeah, Garden 1/2 planted.
August 9th 2009 End of eigth week after Germination
95/72 80% RH at 10:26 a.m.
Finished planting the garden. Every plant had root out to the sidewalls of the cells and about 3/4" deep at least. Since they had just one root on July 16th when I made up the "transplant tray" of extra plants, they have developed roots quickly as it's been only 24 days.
Watered entire garden for 45 min from each of two positions
This is what the garden looks like today: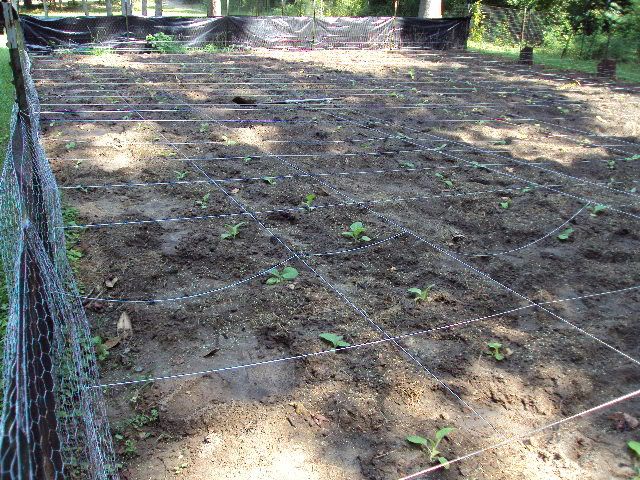 Sevin was then sprayed in a 30' or so band around (not in) the garden in an attempt to kill nearby thrips. Round up was applied at the fenceline both inside and out. The layout string was collected up. 2 Tablespoons 75% Acephate/2 gallon water was mixed and 1 gallon of the mixture was applied to the plants. Which I must say, have some that are looking pretty sad.
Watered the remaining starts that are still in the tray, "just in case".
August 10th 2009
100/72 59% RH at 11:23 a.m.
Water garden for one hour at each of two locations
August 11th 2009
98/72 71% RH at 10:02 a.m.
Water garden for one hour at each of 2 locations
I'm watering each day after initial transplantation to keep the roots from drying out. Most the transplants were put deep in the ground with all the soil from the tray, but a few came out of the tray with only about 3/4" of soil so I want to keep enough moisture in the soil by watering often until roots get established. At one hour per location I'm not seeing any puddling even where the spray overlaps, however, I do see the top part of the soil staying wet looking longer in the overlap areas. Puddling/run off will cause Leaching of nutients (especially nitrogen) from the soil, so perhaps I've picked a good amount to apply.
August 12th 2009
88/72 83% RH at 12:12 p.m.
Plenty of water as it's rained three times in 24 hours, no need for water.
August 13th 2009
85/70 89% RH at 11:48 a.m.
Ground still damp/wet from rains, with a small storm approaching. did not water today. Whilst looking at my young plants I notice they are being eaten away, little by little. I suspect slugs/snails, so I applied 8 ozs Hi Yield slug/snail bait
August 14th 2009
88/72 82% RH at 11:12 a.m.
A number of plants don't appear to have survived transplantation. This is why I kept the "extras" watered this week. Plan to replace the dead ones tomorrow (If I have enough). I know I'm out of Virginia Gold, so what I have is what I have. I also have alot of extra yellow orinoco I don't plan to use left over.
August 15h 2009
90/72 57% RH at 2:41 p.m.
August 16th 2009 End of ninth week after germination, and end of first week after transplanting
92/72 69% RH at 6:35 p.m.
I experienced a 23% death of plants (60 dead of 257 planted) during the first week after transplantation. I had only 23 to replace them with. I planted all the spares I had, and will still have holes. Have to remember to sow that much more next year. I planted them deep, perhaps that has something to do with the loss?
Used a scale to measure the rest of the 50 lb bag of Super Rainbow used to do the initial broadcast pre-transplant application. Turns out I'd used 20 lbs. Divided the remaininng 30 lbs into two groups of 15 lbs each. Applied 15 lbs today of the 6-6-18 fertilizer today in a narrow band around the plants. I still have the other 15 lbs to apply and also 4 lbs of ammonium nitrate for later application.
Here's what they look like now. Note: the white pipes are used to label plants which aren't the same as the rest of the group (I.E they're replacements)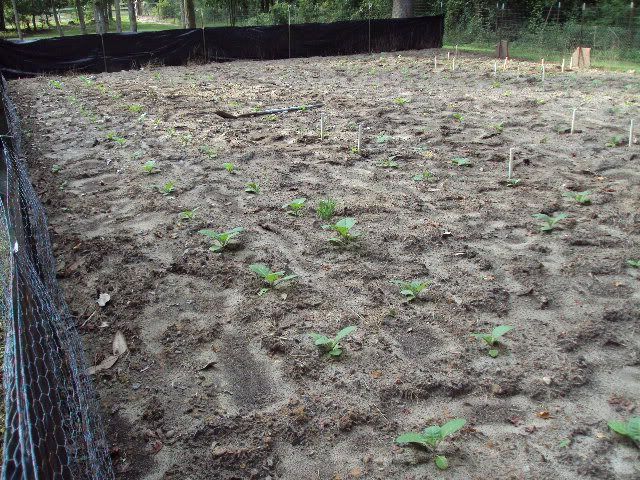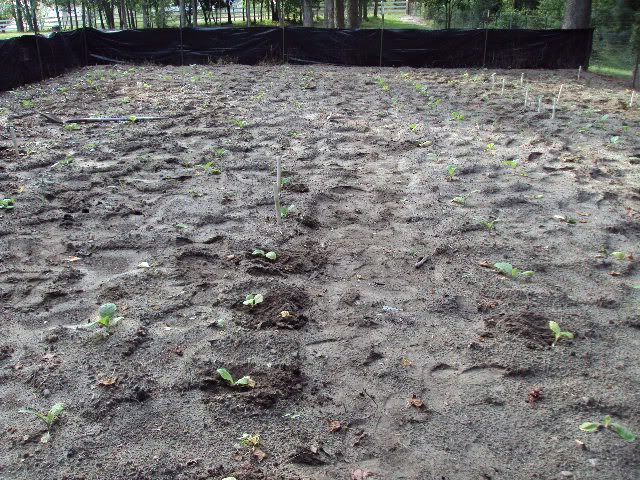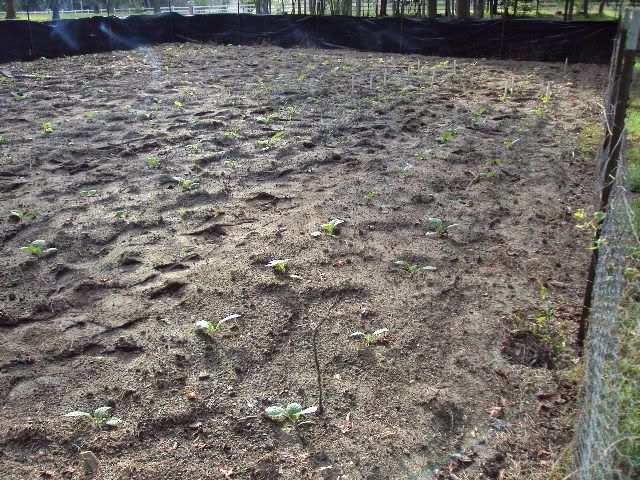 August 17th 2009
92/72 80% RH at 10:19 a.m.
Water for one hour from each of two locations
August 18th 2009
92/72 93% RH at 9:33 a.m. 57% RH at 7:28 p.m.
The largest plant so far is one of the Black Sea Samsuns, and it's leaf measure 8" long.
August 19th 2009
95/74 94% RH at 9:48 a.m.
August 20th 2009
92/72 69% RH at 11:35 a.m.
Water for 20 min hour from each of two locations
.
August 21st 2009
88/72 65% RH at 12:13 p.m.
water for 1 hour 10 min from each of two locations.
Yesterdays watering was cut short, so I watered again today.
August 22nd 2009
92/68 83% RH at11:22 a.m.
Picked weeds. Divided 4lb 2. ozes of Ammonium Nitrate into 6 baggies of 11 ozes each. Spread each bags worth of Ammonium Nitrate on a group of tobacco. Applied 8 ozes of Hi=Yeild snail and slug killer in broadcaster over all garden.
August 23rd 2009 End of tenth week after germination, End of second week after transplanting
88/65 88% RH at 9:55 a.m.
Here's what they look like after two weeks in the ground.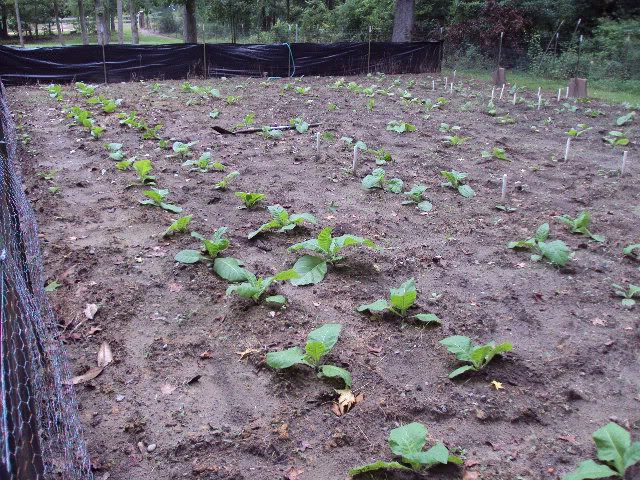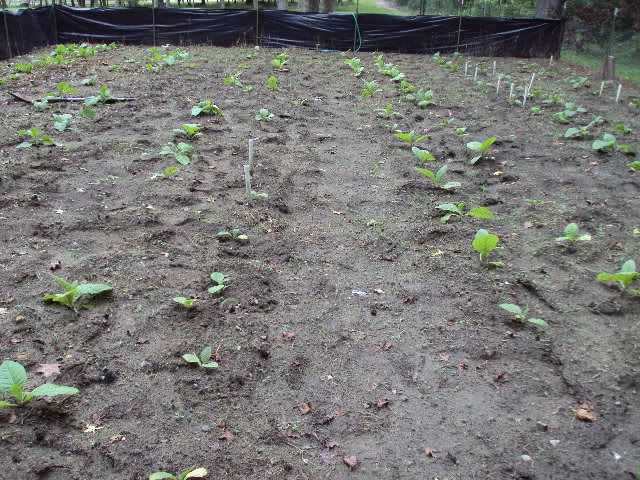 August 24th 2009
92/65 62% RH at 11:25 a.m.
August 25th 2009
92/72 78% RH at 10:01 a.m.
Saw several holes in leaves. Found a brownish small catapillar. Applied 5 ozes liquid Seven (22.5% concentrate) to garden using hose.
August 26th 2009
92/68 95% RH at 9:18 a.m.
August 27th 2009
92/72 89% RH at 9:09 a.m.
Water for one hour, from each of two locations
. Either Yellow Orinoco doesn't like my soil, my growing technique, or something likes them, as I now only have 6 of the original 18 plants. From the camera's point of view. The Yellow Orinico are in the second group from the left and behind the shovel laying on the ground. The plants in front of the shovel are Virginia Gold.
The best growers so far are the Black Sea Samsun plants (far left group)
August 28th 2009
85/70 73% RH at 11:16 a.m.
August 29th 2009
91/69 92% RH at 9:20 a.m.
August 30th 2009 End of eleventh week after germination. End of third week after transplanting
90/68 68% RH at 11:00 a.m.
Weeded around all plants. Left pathways with weeds for now. Measured out the remaining 6-6-18 fertilizer and divided by 12 groups so that I could put 1/2 down this week and the remaining 1/2 down next week and put the 20.4 ozes of fertilizer into six baggies and put on the plants in a narrow band near the stalk.
Here's what they look like after three weeks in the ground.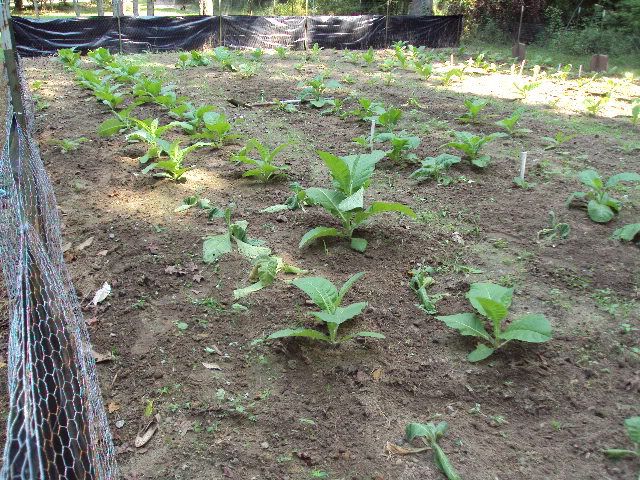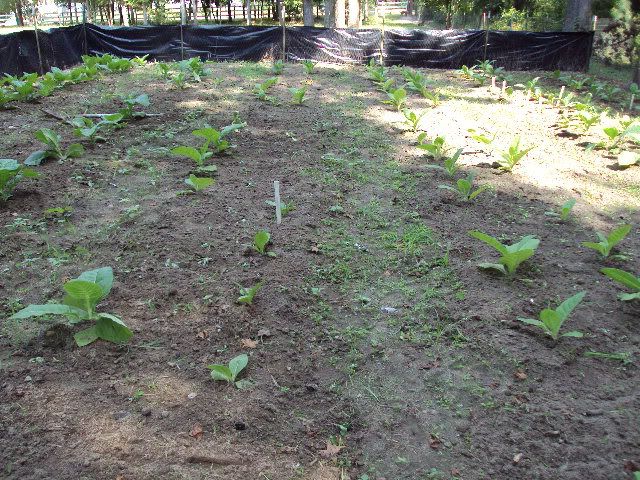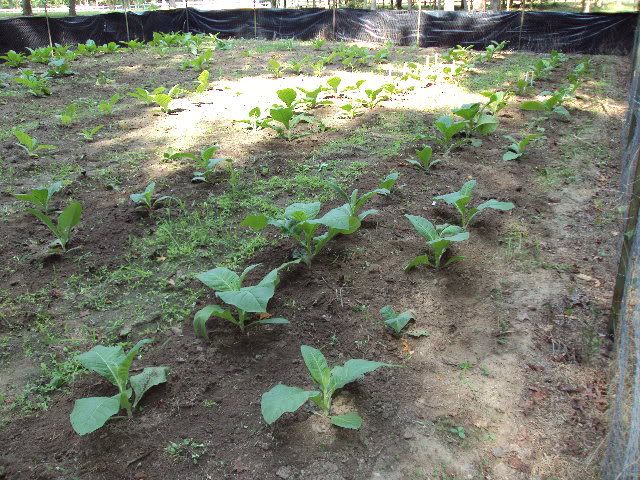 I have 188 plants left and 24 of those are sickly. To bookmark this for later, here's what I have left/sick
Virginia Gold 78/8
Golden Seal Special 32/4
Common Smoking Burley 19/4
Yellow Orinoco 10/1
Black Sea Samsun 47/8
From questioning the fora and giving pictures, the best guess for the sudden wilting death that I'm experiencing is that I'm watering to much/to frequently. I'm now cutting back on watering.
August 31st 2009
78/62 89% RH at 10:25 a.m.
September 1st 2009
80/62 82% RH at 10:13 a.m. Weeded the walkways on 1/2 the garden.
September 2nd 2009
82/62 66% RH at 10:00 a.m.
Applied 4 gallons of water/acephate mixture (1 tbls 75% acephate/gallon of water) to the plants themselves, and picked one (now dead) green catarpillar.
September 3rd 2009
82/62 62% RH at 10:15 a.m.
Weeded the walkways on the other 1/2 the garden. Weeding complete for now.
September 4th 2009
88/62 67% RH at 10.24 a.m.
I was out mowing today, and noticed I had one Black Sea Samsun plant that's almost up even with the top of my 3' plastic (as viewed across the garden fence, sighting from one side to the other). I went in and found it was 1/2 way up my thigh. According to what I've read. The period from transplanting to knee high is called the "early growth" stage. The next stage is called the "rapid growth" stage, boy, I thought they grew fast the last 3-4 weeks, can't wait to see what "rapid" looks like.
September 5th 2009
90/65 49% RH at 11:03 a.m.
Found a site which explains the needs and timing of irrigation pretty well. It's
http://commodities.caes.uga.edu/fieldcrops/Tobacco/handbook/irrigating98.html
. It appears that I should have only put .5" of water down at transplant, then let nature do the rest until about the 5th week after transplantation or so. With this info, it appears my "rapid wilting death" is indeed due to my apparent over watering.
The following chart shows the amount of water tobacco needs during the weeks after transplanting.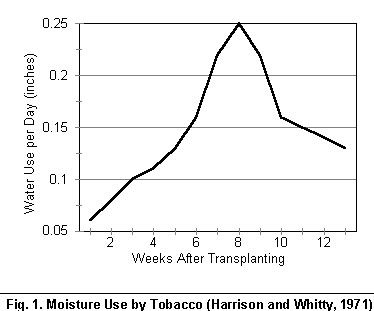 September 6th 2009, End of twelfth week after germination, End of 4th week after transplanting
88/65 72% RH at 9:53 a.m.
Divided up the remaining fertilizer into six 20.4 oz baggies and applied each to a group. This is the final application of fertilizer, and the nitrogen should be depleted to encourage budding around the first week of October.
Here's what they look like after four weeks in the ground.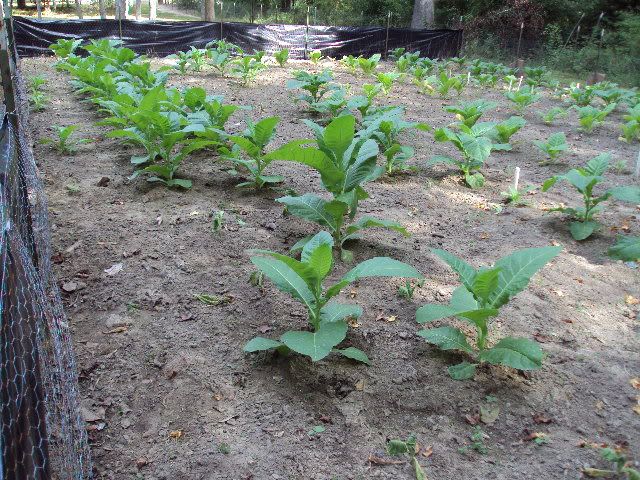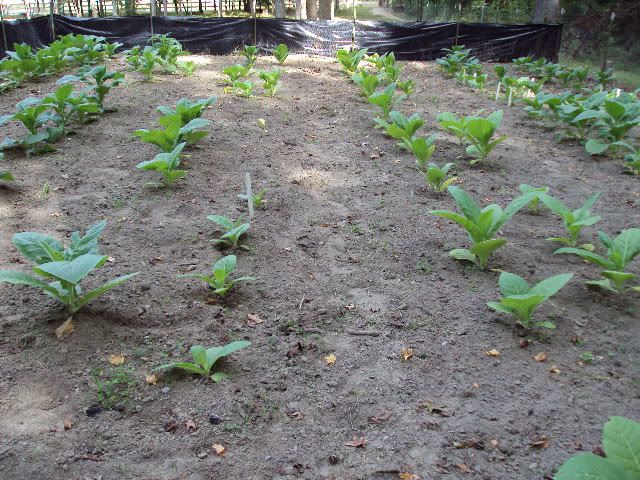 Plants wilting and hasn't rained in two weeks, haven't watered since Aug 27th, so
I watered today for one hour from each of two spots.
Used a vessel and measured the amount of water. It says I put down 1/2" where the two sprays overlap. Going to get real rain gauges tomorrow.
September 7th 2009
85/65 76% RH at 9:49 a.m.
September 8th 2009
88/65 62% RH at 12:04 p.m.
September 9th 2009
88/65 94% RH at 6:36 a.m.
Got a little rain this morning.
September 10th 2009
85/62 82% RH at 11:55 a.m.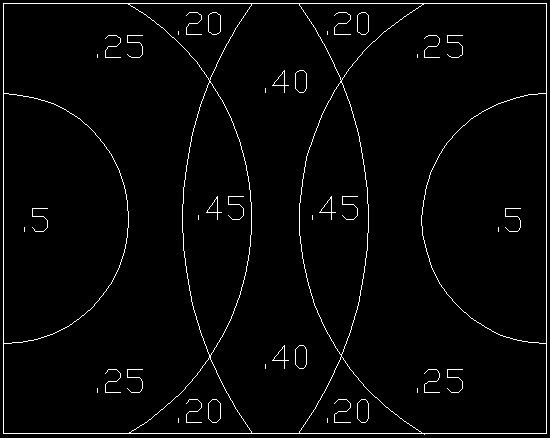 Here's a drawing of how many inches (approximately) that my garden recieved using the rotating sprinklers from the middle of both ends of my garden for one hour from each location. The sprinkler doesn't give a linear amount relative to the distance from the sprinkler. The dead plants largely existed in areas where watering would have been heaviiest, but there are exceptions such as the yellow orinoco dying while the virginia gold right next to it lived. perhaps there's also some genetic suseptibility to overwatering on different species.
September 11th 2009
82/62 54% RH at 3:35 p.m.
Wondering if there was some correlation between the deaths of my plants and the water application rates pic shown above. I overlaid the water applications rate pic over the plant location pic. The marked down the location of each of the dead plants (even though I later put a replacement in some of these spots). I don't see a clear correlation, but do see some fuzzy ones. I wonder if the genetic properties might not also be playing a part in explaining my loss?
(note: the dead plants have had the circles filled in)
September 12th 2009
88/65 64% RH at 11:44 a.m.
September 13th 2009, End of thirteenth week after germination, End of fifth week after transplantiing
88/65 65% RH at 10:30
Applied 8 ounces of Hi Yeild slug and snail bait.
Here's what they look like after 5 weeks in the ground.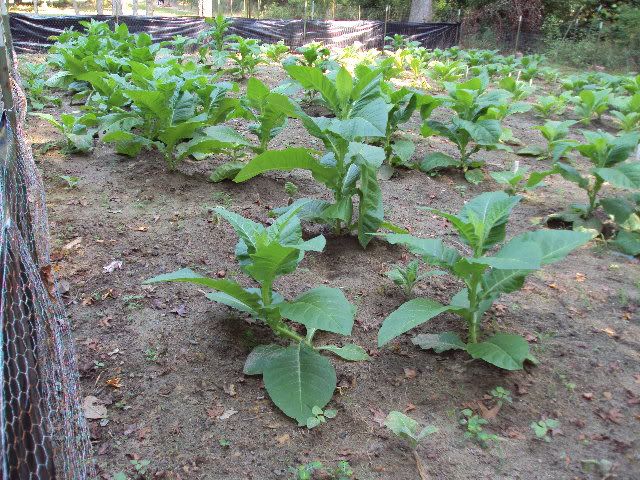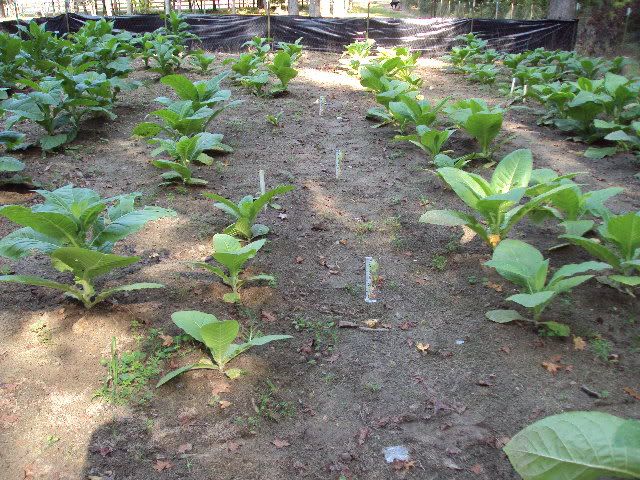 September 14th 2009
88/65 83% RH at 10:00 a.m.
September 15th 2009
88/65 82% RH at 10:00 a.m.
September 16th 2009
88/68 75% RH at 9:22 a.m.
Needed to make some bags to cover the buds/flowers before they bloom. This is so they don't cross pollinate with other varieties. If I were only growing one variety and was sure noone within miles of me were also growing tobacco, then I wouldn't need the bags. I plan to keep some seed for next years use.
I went to Walmart and bought one $9 King size sheet (white), and a couple packs of shoe laces (56"). I took the shoe laces, stretched them out and folded in 1/2. Marked the mid point. Then wrapped both sides of the mid point with electrical tape. Then I cut the shoe laces, and then fused the loose ends with a little bit of flame from my lighter.
I spread out the sheet which measures 8' x 8 1/2'. I cut off all the existing seams. I then marked out 44" length wise and cut the sheet into two pieces 44" wide. I then used the sewing machine to put one hem down the length of the long sides of both pieces. Then I folded each piece in two length wise. The fold will be the top of the bag. I then marked out every 15" and cut to make 14 individual sheets measuring 15" x 44". I refolded the sheet in 1/2 matching seam to seam with the bad side of the seam outwards and ran all 14 through the serger (a sewing machine would also work) It should look like the following.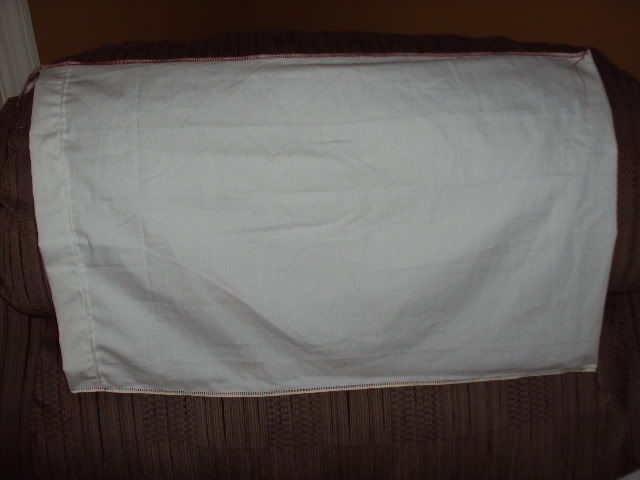 I then turned the bag inside out and it looks like this.
Now to attach the shoe lace. I figured (incorrectly) that I'd make and attach two really wide (4") belt loops (like on jeans), so I did so. I put it on a broom handle for a test fit only to find that only having 4" loops meant to much of the string/fabric wasn't contained inside a loop and figured that wind would pull loose the bag and allow bugs in, so I quickly (yeah right) made and attached a couple more narrow belt loops 1/2 way between the fat belt loops to help keep the bag closed. Looks like this.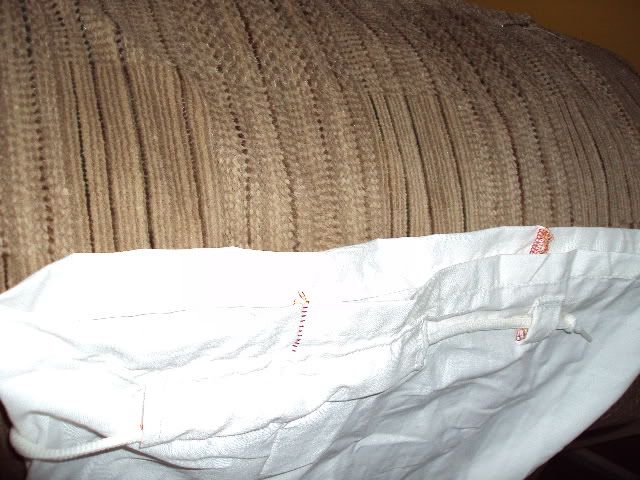 I then test fitted them to a broom handle and it looks like this.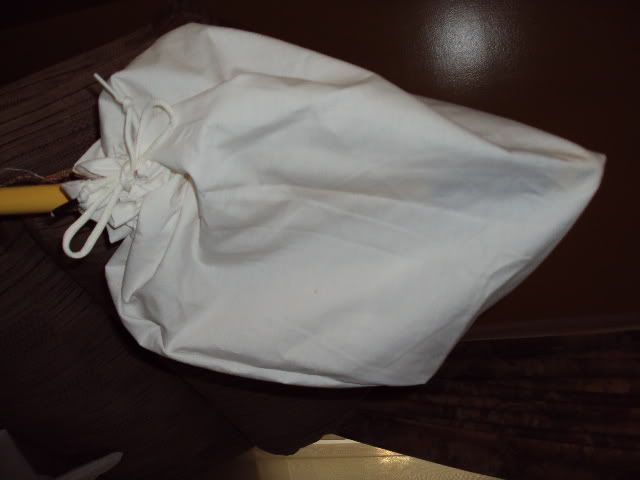 I then made up the other 13 bags the same way. I got fourteen 14"x22.5" bags out of one king size sheet.
Watered for 45 min from each of two locations.
Haven't watered since Sept 6th. No rainfall either. I'm guessing that 45 min from each will give me .4" of rain in the middle. Rain gauges will tell. I had purchased three $3 rain gauges and put them in a line perpendicular from the short side of the fence, down the middle walkway, spaced at 8', 16', and 24' (middle of garden) from the edge of the fence. The rain gauges said I put down .20" near, .18" middle, and .25" far(middle of garden) in this watering. According to the water needs chart, this amounts to just over a days worth at this stage. There is a possiblity of rain the next 2-3 days.
September 17th 2009
85/68 83% RH at 10:34 a.m.
September 18th 2009
78/68 94% RH at 9:31 a.m.
Intermittent rain has put down 0.4" of rain overnight.
September 19th 2009
85/65 79% RH at 10:09 a.m.
September 20th 2009, End of 14th week after germination, End of sixth week after transplanting.
85/68 83% RH at 10:03 a.m.
Up until now, I took the weekly photos from the same spot, and used the top of the distant 3' tall black plastic as the top of the shot. Now that the plants are taller than the black plastic, I have to start pointing the camera higher. I have maintained the standard of placing the camera on top of posts, so the camera is placed 4' 3" above the ground.
Here's what they look like after 6 weeks in the ground.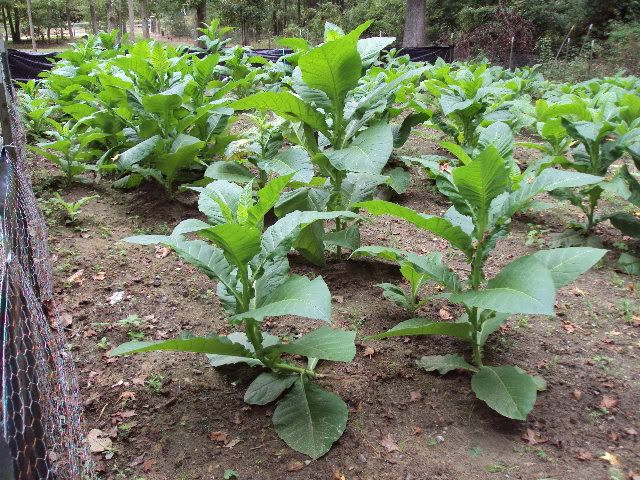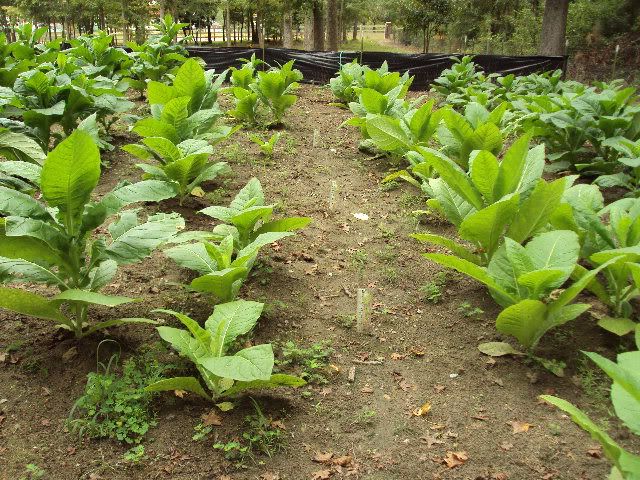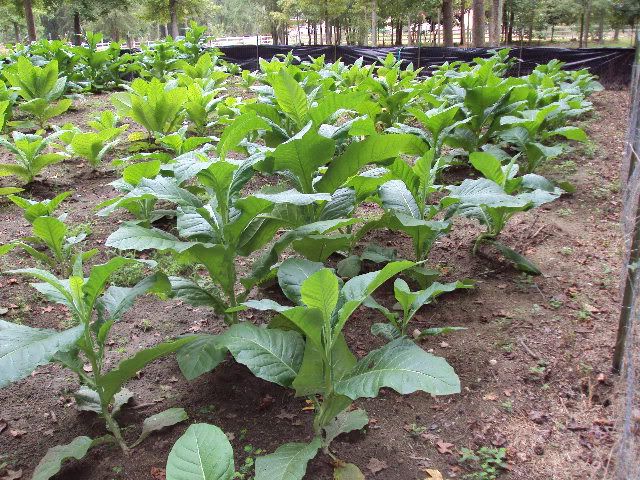 September 21st 2009
85/68
September 22nd 2009
85/68
I still had a gallon of the acephate/water mix in the sprayer. I added 4 ozes of Sevin, then topped up the sprayer and applied it to 3/4 the crop. I then mixed up 2 teaspoons acephate and 4 ozes of Sevin along with two gallons of water, and sprayed about 1/2 on the rest of the garden.
September 23rd 2009
85/68 69% at 9:18 a.m.
September 24th 2009
90/69%
Proud parental moment.... I found my first bud. The plant is almost as tall as I am.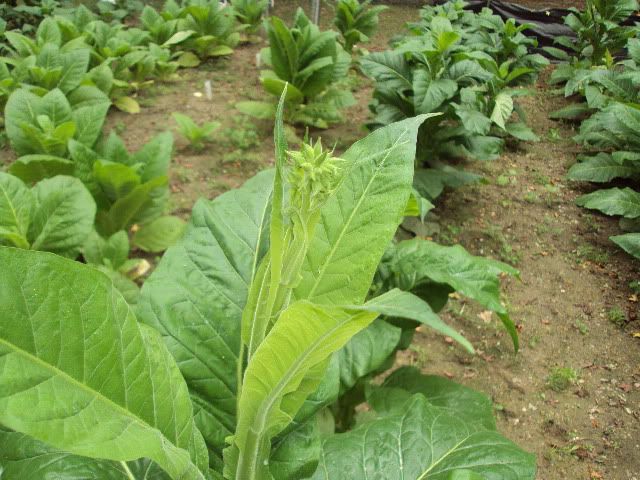 It is the only one, and it was on one of my few remaining Yellow Orinoco plants.
September 25th 2009
79/66 66% RH at 11:34 a.m.
2 inches of rain fell after sunset
September 26th 2009
76/68
Had to work all day. On my way out, I stopped by the garden to record the rainfall and couldn't see my bud as I approached. That plant and nearly 1/2 the garden got weighed down to the ground. I got about 1/2 of it stood back up before darkness, removed bottom leaves, and packed a hill of dirt around the stalk to keep it up. Have to get the rest tomorrow. I see a storm approaching on the radar. Hope it spares me.
September 27th 2009, End of the 15th week after germination, End of the 7th week in the ground
76/60
0.2" of rain fell overnight
Picked up the rest of them, but two are too heavy to stay up unaided. Will have to get something to hold them up. Topped one plant. I'd put the dirt leaves from the last time I did this on string under the car port. Temps were from 85-90 to 60 and humidity seemed to wander day to night which placed the average around 70%. Thought things were going good. Most had changed color, then last night I looked and they all including ones hung a week ago had mold growing on them. Now that the daily temp ranges are lower, I'm searching for alternate methods. No big loss so far.
I picked many more dirt leaves last night and today. The ones from last night I washed today and rolled up inside 3 towels overlapping the leave by 1/2 to fit them all in. Hopefully the wife will not blow a gasket (maybe I should give her cash for new towels, and just use all the existing one????). Didn't have time to get the weekly pics today, but will tomorrow and you can see the damage.
September 28th 2009
88/58
Here's what they look like after seven weeks and one day in the ground.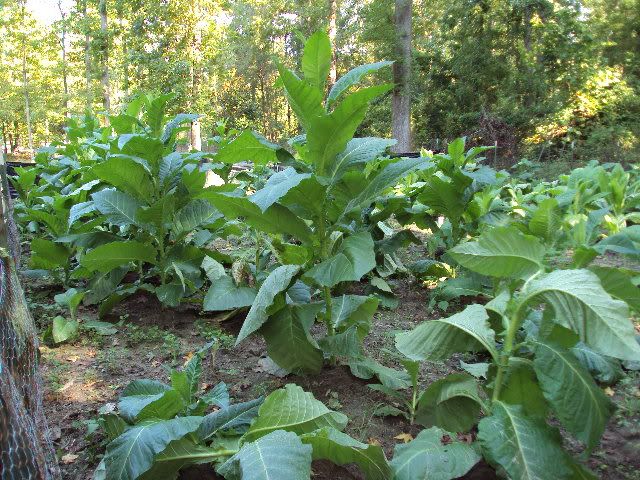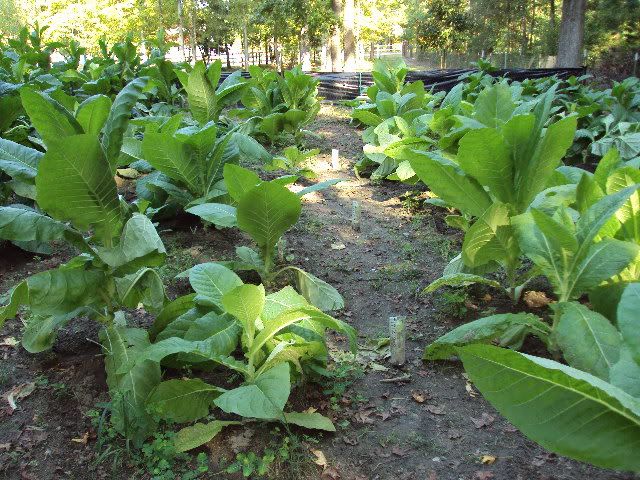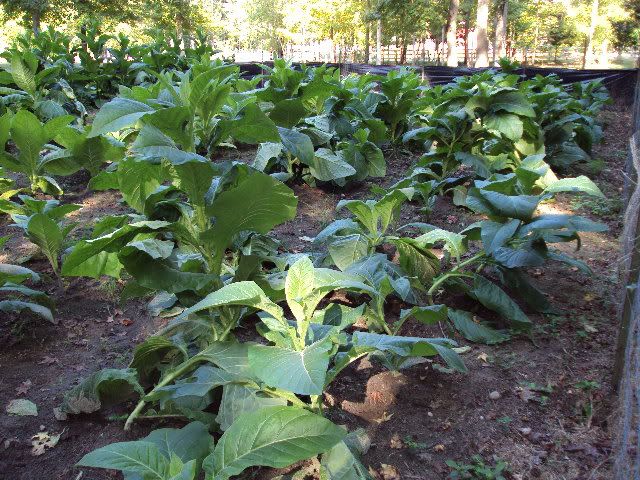 September 29th
78/52 44% RH at 12:30 p.m.
Started construction of cooler based curing mechanism. Running test batch through from the leaves picked off the bottom of the plants which fell and had to be removed to pile up dirt. Not mature leaves.
September 30th 2009
78/48 49% RH at 12:30 p.m.
Made adjustments to temperature inside the cooler/heater so that it's running roughly to 107 F. It has around a 20 deg differential in the thermostat (dual element, lower thermostat, $9 at lowes). Need more time to measure accurately.
October 1st 2009
78/55 42% RH at 12:00 a.m
October 2nd 2009
78/60 71% RH at 12:00 a.m.
October 3rd
82/52 81% RH at 10:30 a.m.
October 4th 2009, End of 16th week after germination, End of 8th week after transplantation
82/58 84% RH at 9:00 a.m.
Placed my bud bags on 3 Black Sea Samsun plants and 1 Virginia Gold plant. Topped most the Black Sea Samsun. Most plants don't have buds yet, but the BSS seems to be ahead of the rest.
Here's what they look like after 8 weeks in the ground.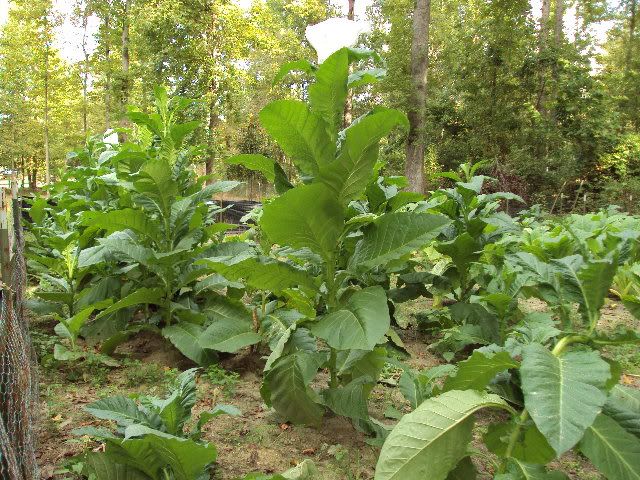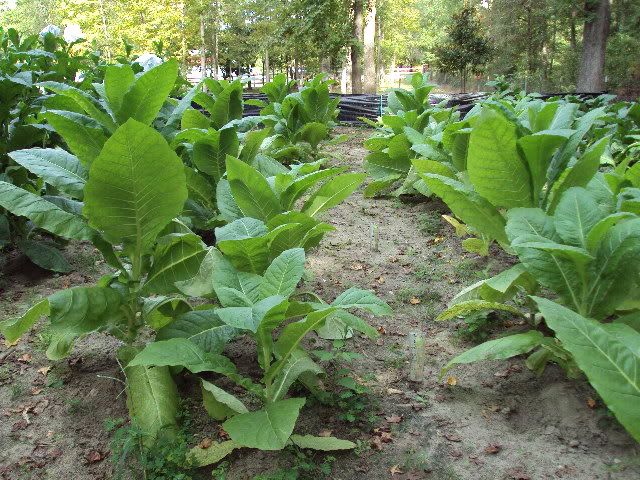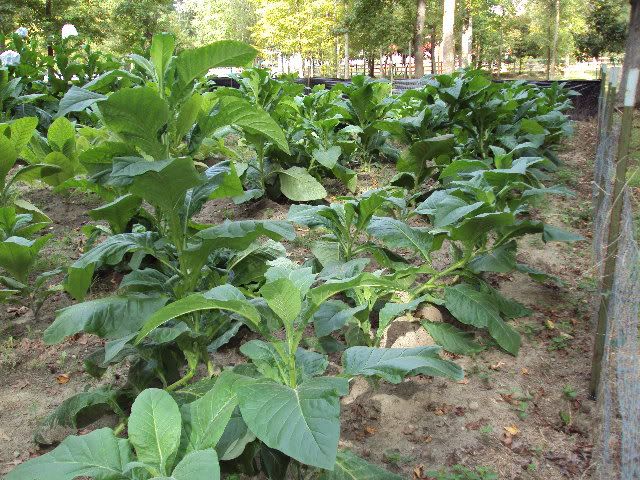 October 5th 2009
62/58 99% RH at 11:00 a.m.
We recieved 1" of rain overnite and throughout the day. It was a soft drizzle and didn't hurt the plants
October 6th 2009
68/62 91% RH at 10:21 a.m.
October 7th 2009
87/54
October 8th 2009
78/62
October 9th 2009
88/68 100% RH at 9:30 a.m.
Since I got a late start planting. I'm now concerned about them not ripening prior to the onset of frost. I've read that topping earlier forces the plant to ripen faster and I'm testing that out. Rather than waiting to top just prior to first bloom, I'm topping those with any formation of a bud, no matter how small the bud is. If it had a bud, wasn't going to be used for seed production, then I topped it. Some were only thigh high plants. My first frost is Nov 1st (3 weeks away), so I'm hoping to get them as ripe as I can before being forced to harvest them anyway. I'd guess (as I didn't count) that 3/4ths of the crop indeed did have a bud formation and were topped.
October 10th 2009
88/62 68% RH at 10:15 a.m.
October 11th 2009, End of 17th week after germination, End of 9th week after transplant
75/60 82% RH at 1:30 p.m.
I repositioned the bud bags higher up onto the plants, they had grown upwards and were being confined by the bag. They need more room, so I gave them some. There are blooms on the buds.
Here's what they look like after 9 weeks in the dirt.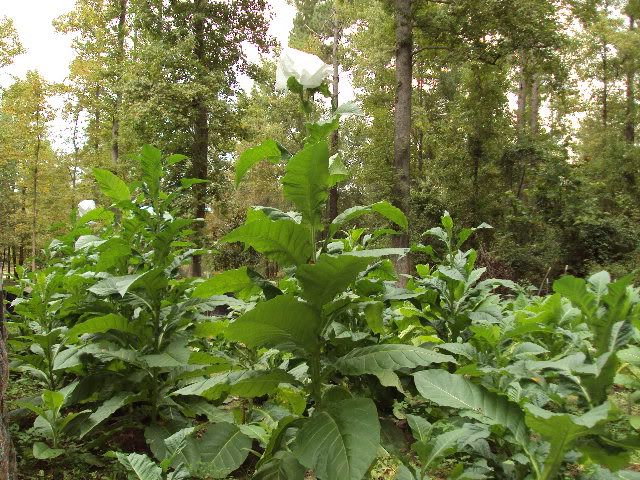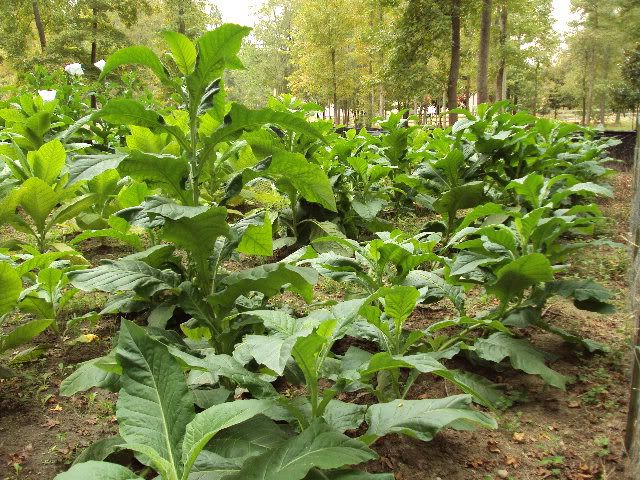 In the short row/group of Virginia Gold (really in the Yellow Orinoco group, near the Black Sea Samsun) I have already put a bud bag on one plant. Today I've ID'd other VG plant in the VG groups that have buds and will need bagging soon.
This log has reached the character count limit set by the website. I'll carry it on in the next post down
The following is added just to be able to reach 60K exactly, and be the longest post possible.
abcdefghijklmnopqrstuvwxyz 12 This post is the LONGEST POST that will ever exist on this site, there'll never be a longer one.