The Tabasqueño Prieto, Pi 114401, (seed from our forum member named NRustica) is of the species
N. tabacum
, and derives from San Andres Tuxtla, Veracruz, Mexico. Originally collected in 1936. It appears to be a primitive of the Orinoco type, and does not seem to be related to the general class of "Spanish" tobacco (e.g. Vuelta Abajo, the numbered Havanas, Comstock Spanish, Zimmer Spanish, etc). As you can see in the photo below, the bagged heads flop over, since the upper stalk is not very sturdy. Transplant to half of the plants with one blossom open (ARS-GRIN "Maturity") is 52 days. Blossoms are pink. The blossom head develops in a open conformation.
Planted at a density of 3.75 sq. ft. per plant
Plant height: 58-59" (to crowsfoot)
10th leaf: 18" x 9"
Leaf number: 19
Leaf angle: 40º
Tip shape: acute
Venation pattern: angular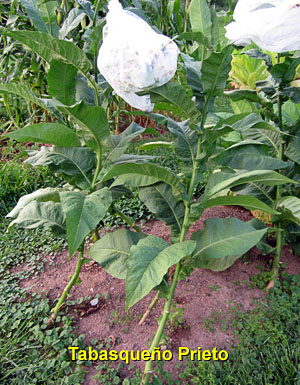 Bob