That's a very nice study. Here's a link that will get you to the pdf version of it:
http://www.jstor.org/stable/pdfplus/2467668.pdf
It certainly puts to rest the genetically silly notion that tobacco dramatically changes when planted in a new region.
I don't see in the text any significant support for assuming that modern Havana varieties came from Mexico. Historically,
Nicotiana tabacum
arose on the eastern slopes of the Andes, in South America, while
N. rustica
seems to have arisen in the region of Mexico.
Spinden, Herbert Joseph:
Tobacco is American:

the story of tobacco before the coming of the white man
.
New York Public Library, 1950.
This book, and many more, can be found in
The Core Historical Literature of Agriculture
at
http://chla.library.cornell.edu/c/chla/
. There are only a half-dozen books there with the word, "tobacco" in the title, but the entire library contains many thousands of books, all readable on-line.
Spinden HJ: Tobacco is American, 1950 wrote:
It should be kept in mind as regards commercial tobacco: the straits of Yucatan and of Florida separate the two domesticated tobaccos of pre-Columbian times so that north and west of this line only
Nicotiana rustica
was available, and south and east of it only
Nicotiana tabacum
, while the two species mingled in the general region of Panama.
The old tobaccos of Mexico and the United States were essentially pipe and cigarette tobaccos. The South American species with a larger and broader leaf gave rise to our cigar, or bundle of smaller leaves wrapped in a larger leaf of the same material.
...in 1528, we must assume that the people of the Valley of Mexico had at least some trading knowledge of the large-leaved
Nicotiana tabacum
, which already had penetrated the northern continent as a contribution of recent immigrants from South America.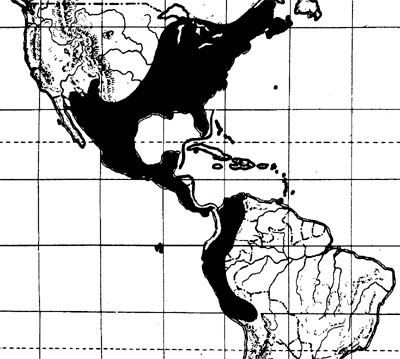 Map of Western Hemisphere showing, in black area, the extent of the spread of
Nicotiana rustica
which was aboriginally cultivated in Mexico and Central America. In Virginia, it was soon replaced in English cultivation with
Nicotiana tabacum
introduced from the Orinoco [Venezuela].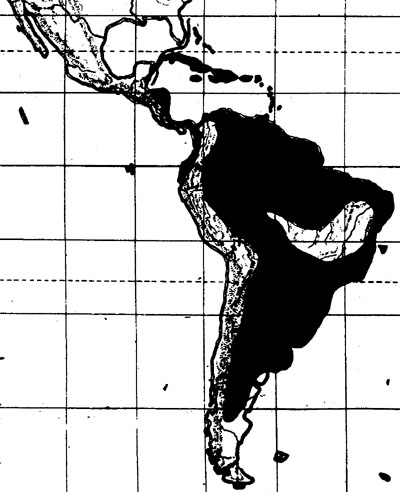 Darkened areas in Central and South America show Indian cultivation of
Nicotiana tabacum
. It originated as a hybrid on the eastern slopes of the Andes.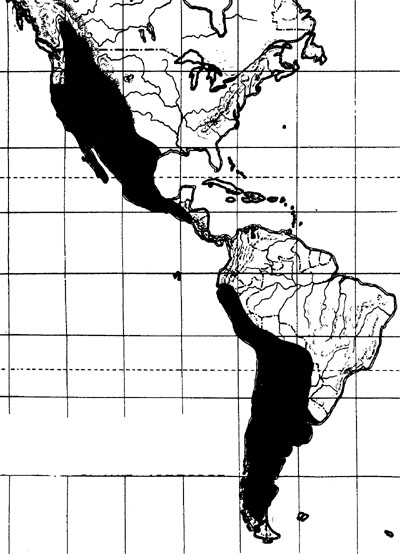 Darkened areas show where wild tobaccos grow; about sixty species appear in the two mountainous areas of America, the heaviest concentration being in Chile and Argentina.
Bob